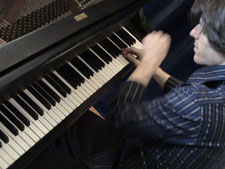 Reviews
The Best Jazz of 2010: Top 10 CDs "Inner rhythms, complex progressions and true interactivity characterize the California pianist's collaboration with drummer Akira Tana and bassist Kai Eckhardt."
-Philip Booth, Between The Grooves, January 2, 2011
"Pianist Ken Berman's friendship with the late poet Eythan Klamka served as the inspiration for Sound Poetry, a musical project of mostly original compositions bookended by two solo reinterpretations of classic jazz standards. Poet Klamka, to whom this album is dedicated, had previously stated that "any true musician is a sound poet" and to this end, poetry and music come together on the pianists fourth album as leader. Along with electric bassist Kai Eckhardt and drummer Akira Tana, the Berman trio brave through a selection of fresh new material of light improvised nature.
Billy Strayhorn's oft-recorded standard "Lush Life" opens the music with the leader on an expansive piano solo providing cleaver right-hand finger-play on a generally lush treatment of one of Strayhorn's signature tunes. Paying tribute to a couple of inspirational figures in his career, Berman pens "Old Dylan" (for "Bob Dylan") and "Bill Frisell," two original pieces the trio performs energetically. The main inspirational tune of the album is obviously, "The Poet," and while dedicated to friend Klamka, this one just happens to be one of the best charts of the album containing a slight nod to John Coltrane's "Equinox."
Seemingly an instrumental ballad at first glance, "Old Style Tune" actually has a lot of kick to it featuring firm piano play, bass and drum solos that sounds like nothing old style in fact, pretty modern at that. After the short tribute-piece "Diane" (for Diane Clymer), the pianist takes off on an Allen Ginsberg read of "Mexico City Blues" with his own version titled "Spaghetti Eastern" where Eckhardt's featured bass work is only eclipsed by Berman best performance of the disc.
Tipping his hat to one of the greatest jazz musicians of our time, Berman designs the humble "Sound Poem" as a haunting exploration of the Bill Evans' style on a brief but beautiful tune. As he began the music, Berman closes with another solo performance, this time with a tender read of George and Ira Gershwin classic, "Someone to Watch Over Me." San Francisco-based pianist Ken Berman leads his very able trio into newly chartered territory on Sound Poetry, a sound and charming musical statement from a superb pianist and composer."
-Edward Blanco, All About Jazz, September 13, 2014
The Best Jazz of 2010: Top 10 CDs
"Inner rhythms, complex progressions and true interactivity characterize the California pianist's collaboration with drummer Akira Tana and bassist Kai Eckhardt.
"
-Philip Booth, Between The Grooves, January 2, 2011
"
The confluence of Berman-Eckhardt-Tana turns out to be a very good idea. First cut starts cantabile solo piano in the expressive quasi romantically post Evans way, then the band comes in bossa nova. Eckhardt has that deep post Jaco post Swallow electric sound and the musical content of the tune is strong. They get into more of a light Rock Jazz feel and a recurring chord sequence. Eckhart plays some nicely wrought solos. Since his tenure with McLaughlin he's been playing in a funk outfit called Garage Mahal. That band creates some interesting music and he sounds well there, too, but it's nice to hear him exposed and limber in a more strictly improvisational context. Berman of course gets plenty of solo time here. He sounds good, in a full-voiced way. Steve-Kuhn-Bley-Jarrett-Evans are people he has appreciated, I suspect, and he belongs to that school here if that's what you would like to call it. It's a kind of narrative post-Bop style, with linear and harmonic movement the main thrust, as opposed to the event-cell vertical orientation of Cecil Taylor and those who follow along that path.
This is probably not the place for a blow-by-blow because it's all well done and a very good example of a modern piano trio playing original material that doesn't sound like stolen goods. Acoustic Jazz-Rock, Bossa and some swinging numbers prevail. Tana, Eckhardt,and Berman each have something to say on their instruments and they say it here. And I think it's well done! It's an album I'll be happy to go back to and dig in to in the years to come. I'm especially pleased with this combination of players. I hope they do more!!"
-Grego Applegate Edwards, Cadence Magazine, Jan – Feb – March Edition 2011
"
One of the Ten Best and Most Important Releases of 2010
"
-Philip Booth, JazzTimes, December 24th, 2010
"Fiercely imaginative"
-David Becker, Examiner.com, August 6th, 2010
"An original pianist with an impressionistic style, Ken Berman performs eight of his compositions on Looking Forward. Berman teams up with electric bassist Kai Eckhardt (an excellent soloist who gets a generous amount of solo space) and the subtle drummer Akira Tana. While Berman, who teaches at Berkeley and Stanford University, can be compared to other pianists who engage in close interplay with their sidemen in trios such as Richie Beirach, Keith Jarrett and of course Bill Evans, in reality he has his own chord voicings and ideas.
Most of the performances on Looking Forward feature thoughtful playing and gradual development at a relatively quiet volume. This is the type of jazz that grows in interest with each listening because it is quite subtle, is full of inner heat, and its details tend to reveal themselves over time.
The overall music is intriguing and well worth a close listen."
-Scott Yanow, The Los Angeles Jazz Scene, May 2010
"Piano trios are no longer what they were in the era of Bill Evans or Keith Jarrett. They're not always trying to plough through standards or set a darkly romantic mood. In fact, some of the newer trio leaders are learning to treat their pianos as percussion instruments. They're willing to sometimes let the bass and drum take reign. They're less concerned with virtuosity, or more interested in forward-motion. They'll even compose from a drummer's point of view. Ken Berman tries that approach on the title track of his new album, Looking Forward. It's arguably the most interesting composition on a record that won't suffer for lack of originality. Akira Tana provides a bustling drumbeat, working his ride cymbal for a large portion of the song. Berman plays the theme with a triplet feel. He solos with short, clipped phrases and lots of space between notes. It bumps.
Known locally as both a bandleader as music teacher – he sits on the faculty of UC Berkeley's Music Department – Berman has garnered comparisons to Jarrett and Evans, probably more for his versatility than anything else. Tonally, he's funky and contemporary, more closely aligned to Vijay Ayer or Aaron Parks than straight-ahead players of the past. Even the prettier, moodier numbers on Looking Forward – ones like "Sailing to Byzantium" and "Reflections" – have a discernible pulse. Other songs, like "April Fools," are quick and tricky. "Pot Hole Road Rage" resists traditional harmony. Kai Eckhardt plays electric bass throughout, which gives the groove a sharper, contemporary edge.
Berman took a big risk on Looking Forward. He put together eight original tunes that varied in length and style, and chose an abstract concept (movement) to unify them. Looking Forward has no standards, no jazz versions of a pop tune, and no hip-hop backbeats. It straddles genre, but not intentionally. And his music is hard, to boot. But ultimately, the album makes good on its name. "
-Rachel Swan, The East Bay Express, April 21, 2010
"When listening to Ken Berman's trio CD
In Mind
, it is easy to think of Keith Jarrett and Bill Evans, for Berman's chord voicings and his close interplay with his sidemen recall the work of his two predecessors. The difference is that Berman wrote all ten selections, he never copies Evans or Jarrett, and at times he sounds more advanced than either of them." "The music overall is both swinging and thoughtful, spontaneous and purposeful. It is worthy of several listens and easily recommended."
-Scott Yanow, The Los Angeles Jazz Scene
"Composer Ken Berman is sometimes compared to Keith Jarrett; that's a compliment. But the Ken Berman Trio's music makes us think more of drinking strong tea in the avenues on a socked-in foggy day than of any particular compere the local music prof may have. It's contemplative jazz, gentle but without a trace of fluff or artifice."
-SF Weekly
"Gifted with a very fine touch and a state-of-the-art technique," Ken Berman composes "very cool jazz, not at all cerebral, and extremely well-played."
-CitizenJazz.com
"Ken Berman may not know much about the correct way of spelling the name "Burman", but he certainly knows a thing or two about playing jazz piano. And about composing for it. If you like piano trios, and interesting performances of original melodies that are, turn by turn, hypnotic or lilting, waltzing or funky, then keep "In Mind" in mind. "
-Michael Burman, KCSM
"Ken Berman, a harmonically inventive pianist, is a promising new addition to the Bay Area jazz scene."
-JazzWest.com
"A dynamic and inventive trio, with a fluid and sensitive sound reminiscent of the great piano trios of Keith Jarrett, Bill Evans, and Nat King Cole. They primarily perform critically acclaimed original material written by pianist and composer Ken Berman."
-Jazzman.com
"A beautiful, remarkable piece of music"
-Robert Harrison, KZSU
"New York Pianist Ken Berman has been the talk of the town and in the clubs of Paris - the capital of jazz - for several seasons. In 2003, he recorded an excellent album of standards. Precise and inventive, he will appear at the Sunside with Fabien Marcoz on the bass and David Grebil on the drums."
-Le Monde
"Le pianiste new-yorkais, Ken Berman fait parler de lui dans les clubs de la capitale du jazz depuis quelques saisons. Il a enregistré, en 2003, un album de reprises de standards fort bien mené. Précis et inventif, il aura pour compagnon au Sunside Fabien Marcoz á la contrebasse et David Grebil á la batterie."
-Le Monde, 5 decembre 2005
"The fluid and erudite American artist Ken Berman, whose latest album, "The Ken Berman Trio" combines a complex range of improvisation with delicate sensuality and brilliance."
-Le Monde
"Le fluide et érudit Ken Berman joue sur les registres complexes de l'improvisation autant que sure une sensualité légère et éclatante."
-Le Monde, 26 mai 2004