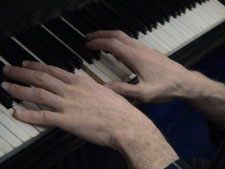 Instruction
Ken Berman is also known for his work as a jazz educator. He is currently on the music faculty at the University of California at Berkeley, the Bentley School, and at Stanford University Continuing Studies Program. During the fall of 2009, he taught at Stanford University's Overseas Program in Paris.
Ken is also the founder and director of mmgmusic productions, a private music instruction company affiliated with several excellent independent and public schools in New York and The Bay Area including Horace Mann, Calhoun, Chapin, Saint David's, Columbia Grammar and Prep, Trinity, Bentley, and others. He also directed the music and performing arts program at the Driscoll School in Brookline, MA from 1995-2003. He has been the recipient of several grants in the field of jazz education, and was a member of the International Association of Jazz Educators until its closing in 2009.
Ken offers clinics and workshops on jazz theory, practice methods, improvisation techniques, ear training to educators and aspiring musicians in New York City, San Francisco and Oakland. Each year he also accepts a limited number of students for private instruction.
For more information about workshops and private instruction availability please email: instruction@kenbermanmusic.com