Discography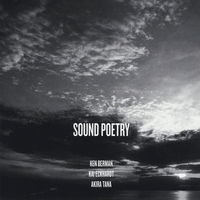 Purchase CD
Ken Berman – piano
Akira Tana – drums
Kai Eckhardt – bass

New Release 2014 SOUND POETRY
Berman's acclaimed trio, featuring Kai Eckhardt and Akira Tana, reach new heights of kinetic interplay and lyricism as they explore the realms of possibility in improvisation. A follow-up to the trio's highly praised Looking Forward ("One of the ten best and most important albums of 2010" – Jazz Times), Sound Poetry was born out of Berman's friendship with the late poet Eythan Klamka (1967 - 2011), and builds on Klamka's notion that "any good musician is a sound poet." Containing tributes to Billy Strayhorn, Bob Dylan, Bill Frisell, Langston Hughes and Bill Evans among others, Berman creates a poetic soundscape full of "delicate sensuality and brilliance" (Le Monde).
Ken Berman "Sound Poetry" - New Album Release January 2014 from Mmg Music on Vimeo.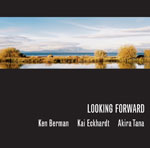 Purchase CD
Ken Berman – piano
Akira Tana – drums
Kai Eckhardt – bass

In the January 2011 issue of JAZZ TIMES, LOOKING FORWARD was named "One Of The Top Ten Best And Most Important Releases Of 2010" by critic Philip Booth. The SF Examiner.Com called Ken Berman "a fiercely imaginative pianist" and The East Bay Express praised his album as "daring," "original," and "straddling genres," comparing his playing to Vijay Iyer and Aaron Parks. Looking Forward was placed on the rotations of over 40 NPR stations nationwide, including WDCB in Chicago, WEMU in Michigan, WCLK in Atlanta, WSKG and WAER in New York, Pacifica station KMHD in Portland, KSKA and KUAC in Anchorage, KKUP in San Jose, KRML in Monterey, KPFA in Berkeley, and KCSM in the San Francisco Bay Area. Le Monde praised Ken Berman as "precise and inventive," "fluid and erudite" and hailed him as a performer whose "complex improvisations are imbued with delicate sensuality and brilliance."Looking Forward, Ken Berman's 2010 release features a dynamic trio with telepathic connections as Ken teams up with legendary drummer Akira Tana and electric bass virtuouso Kai Eckhardt performing an inspirational and mesmerizing set of extraordinary original compositions that bring to mind the classic trios of Pat Metheny, Keith Jarrett, and Bill Evans, while at the same time maintaining a unique and inimitable modern sound.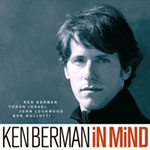 Purchase CD
|
Listen
Ken Berman – piano
John Lockwood – bass
Yoron Israel – drums
Bob Gullotti – drums
In Mind, Ken Berman's 2006 release, features ten inspired original tracks showcasing his genius as a composer and pianist, leading a combo that includes the great John Lockwood on bass and legendary drummers Yoron Israel and Bob Gullotti. Reviewing In Mind for The L.A. Jazz Scene, jazz critic Scott Yanow writes: "When listening to Ken Berman's trio CD In Mind, it is easy to think of Keith Jarrett and Bill Evans, for Berman's chord voicings and his close interplay with his sidemen recall the work of his two predecessors. The difference is that Berman wrote all ten selections, he never copies Evans or Jarrett, and at times he sounds more advanced than either of them. The music overall is both swinging and thoughtful, spontaneous and purposeful." The French newspaper Le Monde praised Ken Berman, a sensation in Paris, as "precise and inventive," and the "talk of the town in the clubs of the capital of jazz." His music has been featured on KCSM in San Francisco, WGBH in Boston, WFMT in Chicago, WEMU in Michigan, and KZSU at Stanford University. In Mind was rated one of the top 15 jazz releases of 2006 on the Jazz with Bob Parlocha website.
Ken Berman's 2003 CD, The Ken Berman Trio also received critical acclaim and has been regularly featured on radio stations from Boston to New York. Le Monde hailed The Ken Berman Trio as a "fluid and erudite," recording containing "complex improvisations imbued with delicate sensuality and brilliance." The CD features seamless and adventurous interplay between Ippei Ichimaru (bass), Miki Matsuki (drums) and Ken Berman (piano), and includes four noted original compositions as well as unique and soulful versions of three jazz classics. Bassist Ippei Ichimaru adds his own unique palette of colors and grooves to Berman's delicate harmonies while drummer Miki Matsuki lays down an animated and thoughtful pulse that give the compositions stunning vibrancy and dimension.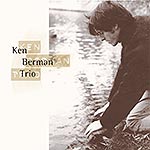 Purchase CD
|
Listen
Ken Berman – piano
Ippei Ichimaru – bass
Miki Matsuki – drums
Ken Berman's 2001 EP features the brilliant Bob Moses on drums and percussion, as well a collection of the finest studio musicians from around the world, including: Abdoulaye Soll (percussion), Kevin Bachelder and Merle Perkins (vocals), Erik Klass and Harri Lehtonen (drums), Pertti Jalonen (bass) and Jud Crane (guitar).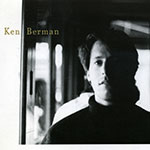 Purchase CD
|
Listen
Ken Berman – piano, guitar, vocals, percussion, keyboards
Bob Moses – drums and percussion
Pertti Jalonen – bass
Harri Lehtonen – drums
Jud Crane – guitar
Abdoulaye Soll – percussion
Merle Perkins – backing vocals
Kevin Bachelder – backing vocals
Eric Klass – drums
Here is a clip of the Ken Berman Trio featuring Kai Eckhardt and Akira Tana performing Ken's new tune "Delie".